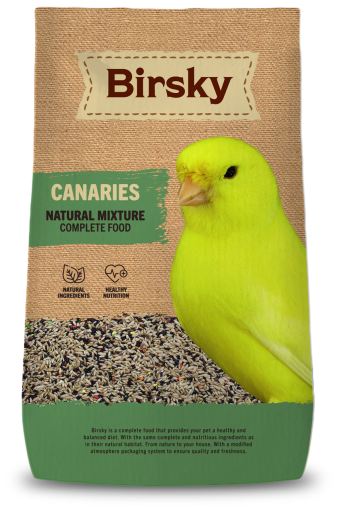 Description
Mixture Canaries Birsky
Birsky's Canary Mixture offers a mixture of seeds, fruits and dehydrated vegetables, which make up a suitable diet to maintain their health and well-being.
Canaryseed is the main ingredient, a seed that is considered a staple in the diet of canaries. It also contains nabina, rich in oils that will improve the state of the plumage and give tone to the bird's throat. Within its composition also highlights the oats, known for its digestive properties and flaxseed, which plays an important role in the development and health of the feathers.
BENEFITS:
- High vegetable protein content.
- Diuretic, helps eliminate excess fluid in the body of our canaries.
- Digestible
- Rich in fiber, oils and minerals
- Complete level of carbohydrates
INSTRUCTIONS FOR USE: Serve in the feeder as is, and always keep clean and fresh water available for the birds.
Ingredients
Mixture Canaries Birsky
Birdseed, Nabina, Peeled oats, Lianza, Bakery and pasta manufacturing product, Radish, Hempseed, Negrillo, Vegetable oil, Banana flavor.
Features
Mixture Canaries Birsky
Hergestellt aus natürlichen Zutaten

High in vegan protein

Made from natural ingredients

Sugar and GMO free
Reference

8436579243609

Weight

800 GR, 3 Kg, 6 KG, 1,6 KG

Bird Type

Canaries

Brand

Birsky, Birsky, Birsky, Birsky

Format
Customer Reviews
Mixture Canaries Birsky