Description
Light Weight Care Weight Control Cat Food Royal Canin
Maintaining ideal body condition and muscle mass is a crucial aspect of your cat's overall health. Therefore, maintaining an ideal weight is critical to maintaining long-term osteoarticular health.
Making your cat feel satiated is the key to preventing his attempts to overfeed. Overweight cats often try to maintain the level of satiety to which they are accustomed, due to increased caloric intake. Therefore, it is important to provide them with a low-calorie food that provides the same level of satisfaction and palatability.
ROYAL CANIN® Weight Care is a balanced and precise nutritional formula that helps to maintain a healthy physical condition. It provides a special blend of fibers (including psyllium) to increase the volume of food in the stomach, thus helping to naturally reduce spontaneous intake.
ROYAL CANIN® Weight Care is enriched with L-carnitine which is involved in fat metabolism. It includes a very high protein content and a low fat content; the perfect ratio to maintain muscle mass while limiting weight gain. All this combined with a proper eating routine and regular exercise adapted to the size of your cat's breed, will contribute to the maintenance of a healthy weight.
ROYAL CANIN® Weight Care is clinically proven to reduce calorie intake by up to 17% and satisfy cats' appetites. It is also formulated with a balanced mineral content to help maintain the health of an adult cat's urinary system.
At ROYAL CANIN®, we are committed to providing nutritional solutions tailored to your pet's needs. We subject all our products to a thorough quality control process to ensure the optimal properties of the food, as well as to meet the needs of your pet's urinary system.
ALL THE CHARACTERISTICS AT A GLANCE:
Balanced food for overweight cats
- 100% adapted nutrition: the balanced recipe has been specially developed to help your cat lose weight and to provide optimal nutrients.
- Low calorie content: more than 90 % of slightly overweight cats reach a healthy weight within 2 months (according to an internal Royal Canin study)
- Increased satiety: selected dietary fibers and sarsaparagatone can naturally reduce spontaneous intake
- Low in fat and high in protein: perfectly adjusted to maintain muscle mass
- Limits weight gain: contributes to the ideal weight
- Stimulates fat metabolism: through L-carnitine
- Supports urinary tract health: thanks to balanced mineral content
- Optimal intake: the new adapted kibble shape stimulates your cat to chew more. This slows down food intake and gives the body enough time to feel the satiety signal. In addition, it also contributes to your cat's oral hygiene.
If your cat is overweight, reduce the daily amount of food.
Make sure your cat always has enough fresh water at its disposal.
MAIN BENEFITS:
- Reversal of weight gain
- Maintenance of muscle mass
- Reduction of spontaneous ingestion
Ingredients
Light Weight Care Weight Control Cat Food Royal Canin
COMPOSITION:
Dehydrated poultry proteins, vegetable fibers, vegetable protein isolate*, corn, hydrolyzed animal proteins, corn gluten, corn flour, rice, wheat, animal fats, minerals, beet pulp, yeast and parts thereof, fish oil, psyllium husks and seeds, soybean oil.
*L.I.P. proteins: proteins selected for their high digestibility.
NUTRITIONAL ADDITIVES:
Vitamin A (21 000 IU/kg), vitamin D3 (800 IU/kg), [E1] iron (30 mg/kg), [E2] iodine (3 mg/kg), [E4] copper (9 mg/kg), [E5] manganese (39 mg/kg), [E6] zinc (128 mg/kg), [E8] selenium (0.06 mg/kg), L-carnitine (200 mg/kg).
Preservatives and antioxidants.
ANALYTICAL CONSTITUENTS:
Crude protein 40.0 %,Crude fat 10.0 %,Crude fiber 7.9 %,Crude ash 7.1 %,Calcium 1.2 %,Phosphorus 0.96 %,Magnesium 0.08 %,Arachidonic acid 0.07 %,Biotin 3.2 mg/kg,Chloride 0. 8 %,Choline 2500.0 mg/kg,Iron 191.0 mg/kg,Moisture 7.0 %,Folic acid 14.6 mg/kg,Iodine 2.4 mg/kg,Potassium 0.63 %,Copper 24.0 mg/kg,L-carnitine 200.0 mg/kg,Linoleic acid 2.6 %,Lysine 1.65 %,
Manganese 60.0 mg/kg,Methionine 0.82 %,Sodium 0.5 %,Niacin 160.0 mg/kg,Omega-3 fatty acids 0.45 %,Omega-6 fatty acids 2.8 %,Pantothenic acid 57. 0 mg/kg,Vegetable fibers 15.7 %,Selenium 0.2 mg/kg,Starch 20.2 %,Taurine 0.21 %,Zinc 184.0 mg/kg,Vitamin A 23000.0 IE/kg,Vitamin B1 (thiamine)25.0 mg/kg,
Vitamin B12 (cobalamin) 0.16 mg/kg,Vitamin B2 (riboflavin)50.0 mg/kg,Vitamin B6 (pyridoxine)44.0 mg/kg,Vitamin C (ascorbic acid)300.0 mg/kg
Vitamin D3 690.0 IE/kg
Features
Light Weight Care Weight Control Cat Food Royal Canin
Reference

3182550706810

Weight

3 Kg, 400 GR, 10 KG, 2 KG, 8 KG, 3,5 KG, 1,5 Kg, 10 + 2 KG

Brand

Royal Canin

Units

1

Age

Adult

Flavor

Chicken, ,

Special Cares

Pregnant, Overweight, ,

Pet

Cats

Made in

France

Product Range

Physiological Royal Canin, Royal Canin FCN Feline Care Nutrition, , Royal Canin Feline Care Nutrition, Royal Canin Physiological

Manufacturer

Royal Canin,ESP28000439,Royal Canin Ibérica, S.A. PLAZA CARLOS TRIAS BELTRÁN, 4 Madrid 28022 MADRID (ESPAÑA),

Condiciones Nutricionales

Nutritional Conditions

,

Gusto
Customer Reviews
Light Weight Care Weight Control Cat Food Royal Canin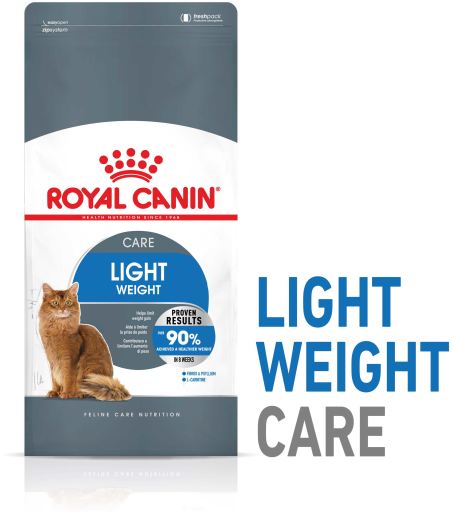 Sinon je ne les commanderais pas mais chres
Rao de excelente qualidade
Me gustara que hubiera disponible un formato mayor y mas econmico